Honour and pride
DP Cama and the Parsi experience
Grand sentiment
The Duke of Sussex, Grand Master at the formation of the United Grand Lodge of England in 1813, supported the universal brotherhood of freemasons. Wherever freemasonry spread across the world, he encouraged the initiation of local members. In India, however, this was met with resistance. Indians wishing to join freemasonry found it easier to join lodges operating under the Scottish Grand Lodge.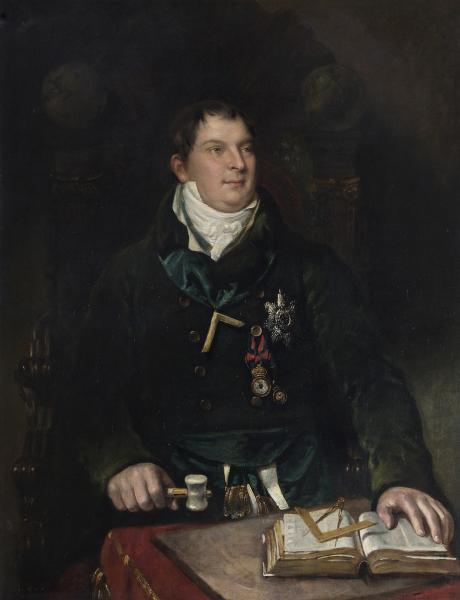 Manockjee the first
One of the first Indian freemasons was Manockjee Cursetjee. A Parsi lawyer and writer, he tried to join the English Grand Lodge's Lodge Perseverance in Mumbai. After his application was refused, Manockjee came to England to ask the Duke of Sussex for help. As the Grand Master was travelling overseas, Manockjee was initiated as a freemason in a French lodge. On returning to India, Lodge Perseverance again refused  membership. Soon afterwards, the Grand Lodge of Scotland formed Rising Star of Western India Lodge to initiate Indians in Mumbai. Manockjee served as Lodge Secretary and Worshipful Master in the 1850s.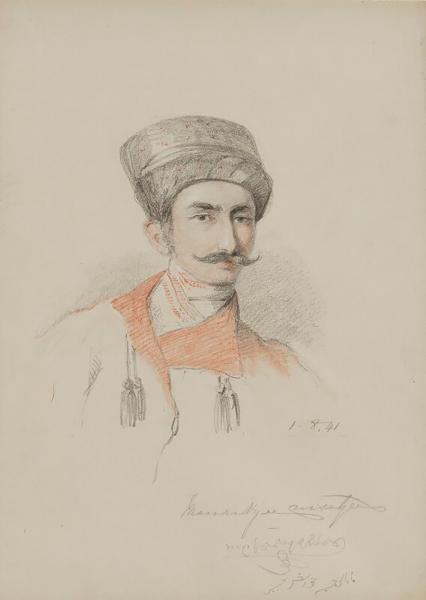 Rising stars
A medal commemorates the founder of Rising Star of Western India Lodge, Dr James Burnes. One side shows a bust of the Scottish doctor who supported inclusive membership. On the other, Manockjee Cursetjee and Mahomed Jaffer appear in local dress and freemasons' regalia. The men stand by a pedestal with two books representing their Parsi and Muslim faiths. The Lodge awards this medal sparingly to distinguished freemasons as a token of great esteem and respect.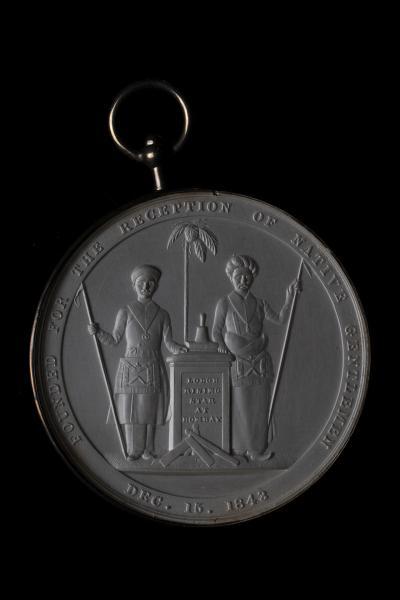 Indian influencers
Dorabji Pestonji was born into the affluent Cama family of Parsi merchants in Mumbai in 1833. The Camas ran businesses in India, Singapore and Canton including Asia's oldest newspaper and a hotel chain. Two Cama family members came to London with Dadabhai Naoroji to set up Europe's first Indian-owned trading company Cama & Co. Initiated as a freemason in India, Naoroji was a founder of Marquis of Dalhousie Lodge, London in 1867 and was the first British Asian Member of Parliament in 1892.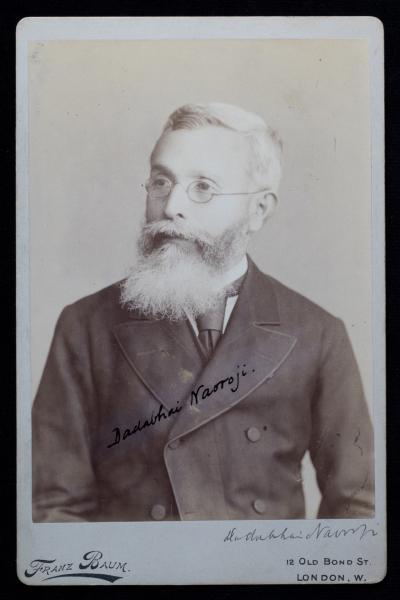 About the Parsis
After persecution, members of this ancient community left Persia for Southern India in the 10th Century. An Indian ruler gave them sanctuary and descendants are known as Parsis or Zoroastrians. Their holy book, the Avesta, centres on one deity, the winged figure of Ahura Mazda, Wise Lord. Many Parsis, whose aims include good thoughts, good works and good deeds, join freemasonry for its similar values. Along with another Cama family member, Naoroji helped set up London's Zoroastrian Centre in North Kensington, now at Rayners Lane, near Harrow.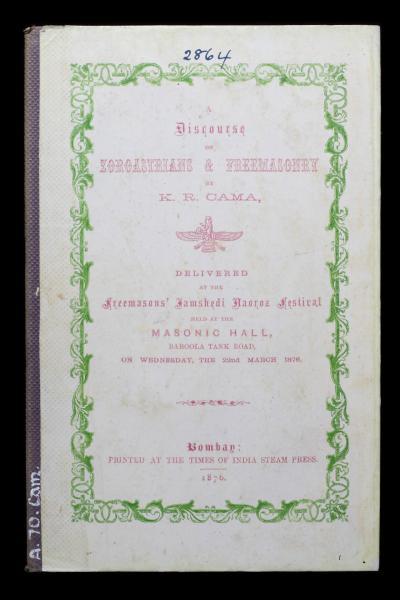 DP Cama the freemason
Dorabji Pestonji Cama was initiated in Lodge Courage with Humanity in 1869. He was passed to the second degree and raised to the third degree as a Master in the Scottish lodge, St. David in the East, Calcutta (now Kolkot), India. Pestonji came to London to work for the Cama family business, joining Marquis of Dalhousie Lodge to serve as Worshipful Master. The jewel shown here is a Past Master's jewel for that Lodge. In 1874 Pestonji joined three more lodges in Surrey and Hampton and was an honorary member of Earl of Carnarvon Lodge, Hampton Court, Middlesex.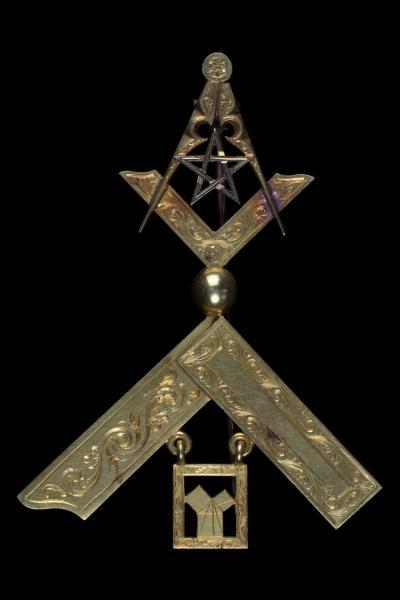 Journies
Pestonji was a founder and first Worshipful Master of Cama Lodge, Hampton Court, formed in December 1885. In his consecration speech, Pestonji indicated that the Lodge was named in honour of the founding member of his family, Kamaji Kuvarji, who moved from Surat to Mumbai in 1735. Also interested in Royal Arch freemasonry, Pestonji joined Iris Chapter after his exaltation in a Scottish Chapter in Kolkot, was a founder of Sir Francis Burdett Chapter and an honorary member of Earl of Carnarvon Chapter.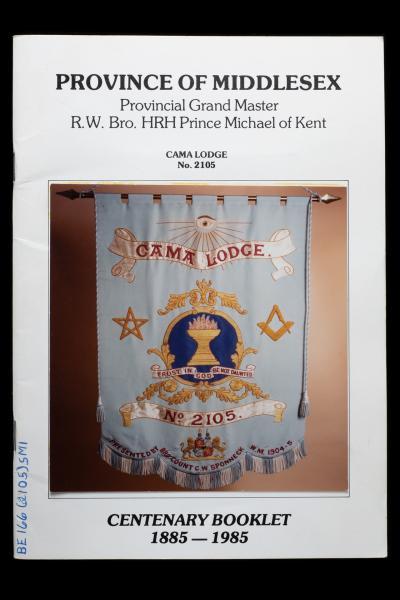 Honour and pride
Appointed Provincial Grand Director of Ceremonies and Provincial Grand Sword Bearer for Middlesex, Pestonji then won an election to serve as Grand Treasurer of the United Grand Lodge of England in 1886. He was the first Indian-born Grand Officer. He's photographed wearing his regalia but you can also see he's wearing his traditional Parsi cap, called a pheta. He proudly adapted traditional Parsi outdoor clothes for formal wear rather than a western-style suit.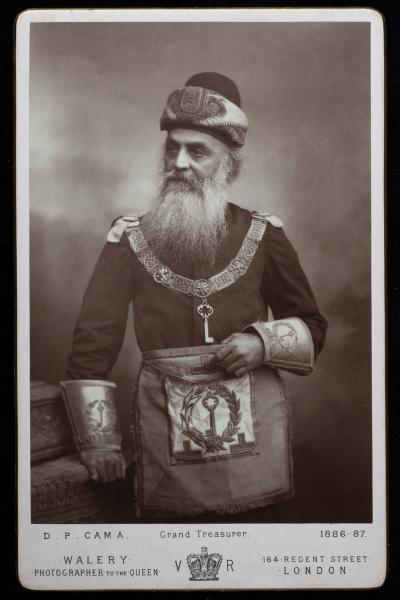 Actively involved
Pestonji supported the Masonic Schools, Royal Masonic Benevolent Institution and the Mark Benevolent Fund. He purchased an early 18th-century manuscript, including the legendary history and rules of medieval stonemasons, discovered in Margate in 1888. He was involved with other freemason orders too, such as Mark Masonry and the Order of the Secret Monitor. He helped to consecrate Cama Conclave, Bombay, installing his cousin the orientalist, KR Cama as its first Supreme Ruler in 1894. KR Cama poses in his traditional Parsi and freemason regalia in the illustration here from 1907.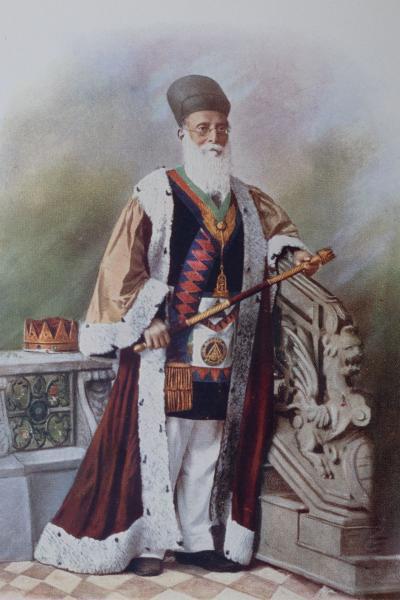 Pestonji bows out
In 1910 Dorabji Pestonji Cama's body was taken by train from London to the Parsi section at Brookwood Cemetery, Surrey. His memorial includes a sprig of acacia, the symbol of death for freemasons. Pestonji and his family's legacy continued. Mumbai's Cama Hospital for Women and Children, whose foundation stone was laid by the Grand Master in 1883, employed the first British women doctors trained at Edinburgh University including the pioneers Edith Pechey and Louisa Martindale. A perfect example of the universality of freemasonry the Duke of Sussex desired to see all those years prior.