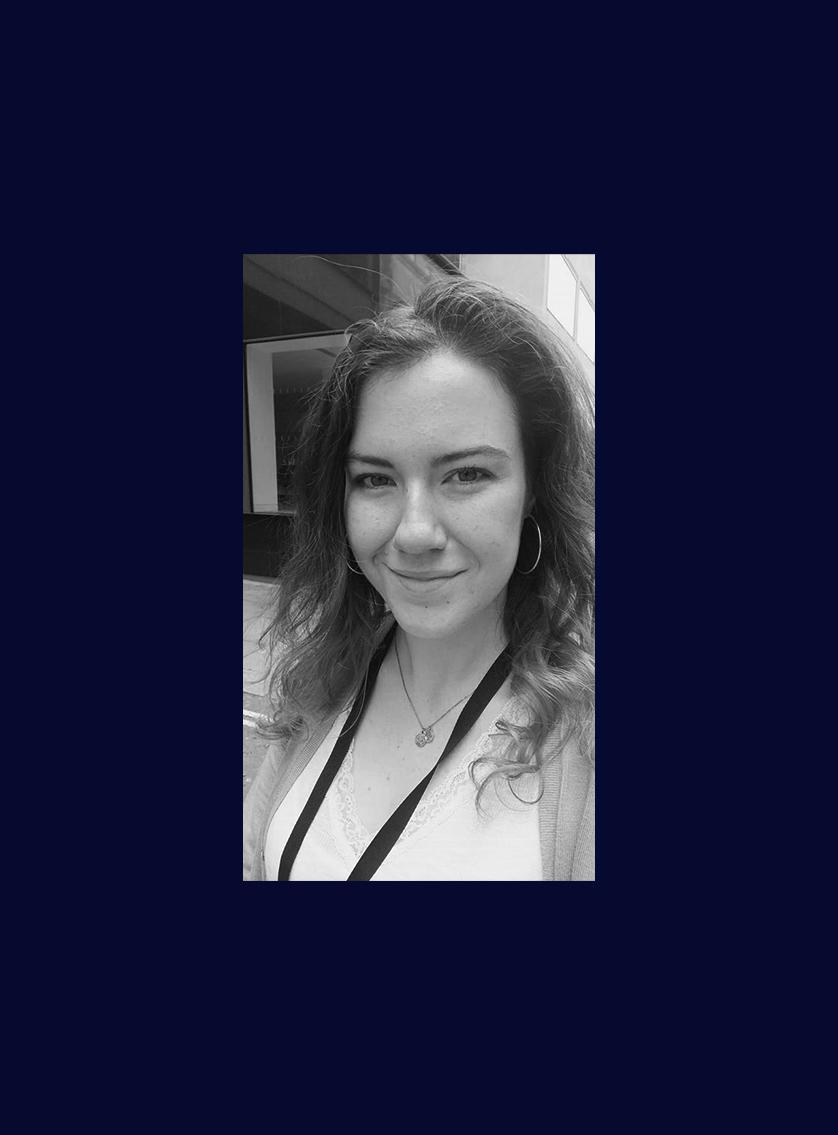 While we are closed to help fight coronavirus we can't provide our popular tours. But when you come to Museum of Freemasonry you'll be greeted by one of our Visitor Assistant team members, like Tara. It's Tara's job to bring you on your journey through our North Gallery and the ceremonial areas on one of our Museum and Freemasons' Hall tours. So we asked Tara to share her personal tour highlights with you today, so you know what to look out for in the future. 
Getting organised
Like all good journeys (in my opinion!), yours will start under a pub sign – you'll pass under our little goose which sits above the entrance to the North Gallery. This goose is a replica of the pub sign that hung outside an eighteenth-century pub called the Goose and Gridiron Tavern. You might, like many visitors ask 'what's with the goose?' Well, it's from this tavern that we get the first written record of organised English freemasonry in 1717, so it's pretty fitting to have it start your journey through the Museum, where you'll learn more about 'the craft' and its members.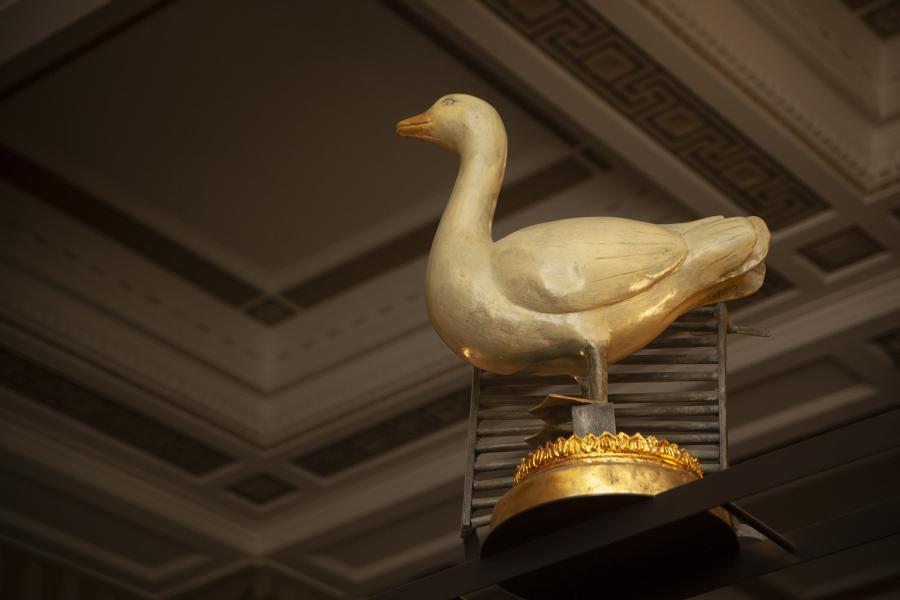 Where it all begins
Passing under the goose and gridiron, you'll find a beautiful old book taking centre stage. It's The Constitutions of the Free-Masons (1723), and this is the text that gives us the basis for modern freemasonry. Picturing the Goose and Gridiron Tavern on the 24th of June 1717, we'll find four small lodges planning a celebration for the feast of St. John. The lodges decide to elect one person to preside over the feast, and Anthony Sayer becomes the first Grand Master. James Anderson was commissioned to create a folio about freemasonry. Hey presto: The Constitutions of the Free-Masons was written. It's from this book that we learn about the structure of freemasonry. It explains the links to the stonemason guilds, the symbols, the outfits, and the moral values of freemasonry. The values are written as Brotherly Love, Relief and Truth, but today we know them as Integrity, Friendship, Respect and Charity.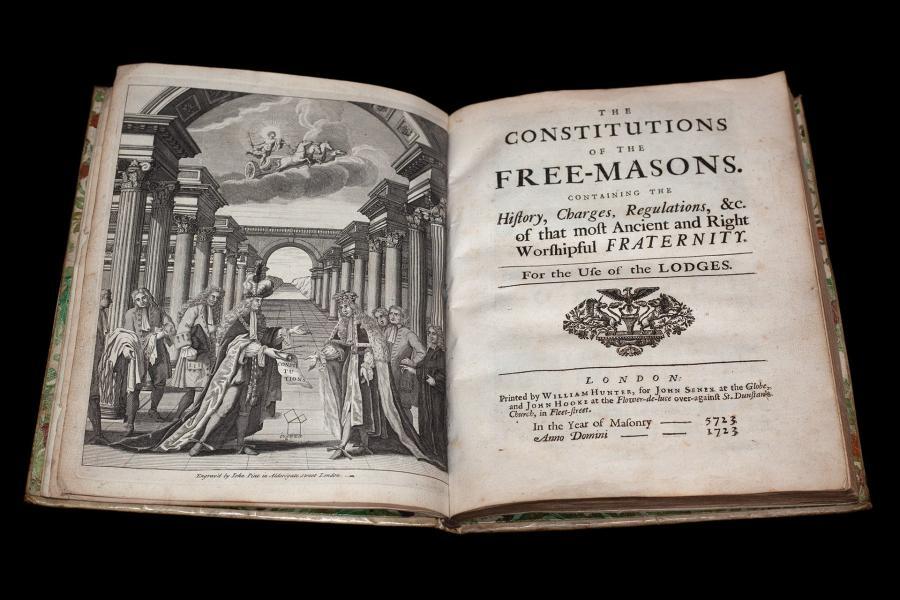 The freemason's schools
Charity is at the heart of freemasonry. It started in a century very different from ours – where there were vast differences between classes and no welfare system. This brings us to one of my favourite sections, the freemason's schools. There were two schools set up for children, first was one for girls and then one for boys. 
To me, they're a great illustration of freemasonry's value of charity. It also helps us to understand the 'relief' talked about by The Constitutions of the Free-Masons. For example, if a nineteenth-century father was incapacitated or sadly passed away, this might lead to extreme difficulties for the family. Schools like these were set up with the intention of 'relieving' that pressure by allowing the children to board and/or attend school. The main reason I love it – the school didn't discriminate on gender, here's a school offering a form of education for girls.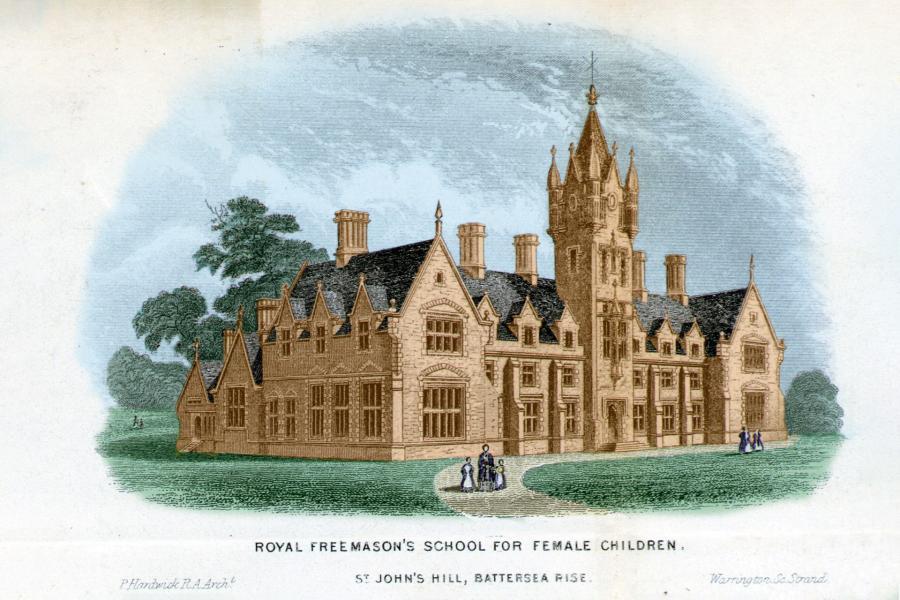 Fit for a Grand Master
Now, no one can enter the Museum without being bowled over by the gigantic throne that sits in the centre of our North Gallery. I often find people gasping as they turn the corner! The throne is, in fact, the size of an elephant, and – in a bid to out-do Ikea – it comes apart and can be transported flat. The throne belonged to the Grand Master George, Prince of Wales, who would later go on to become King George IV (having to give up his title as Grand Master to become King as you aren't allowed to hold both offices). The reason for its largeness? Well, for the man himself, who was weighty enough to fill the whole throne!
Tracing boards for the un-initiated
In freemasonry, a tracing board is a painted or printed illustration of the various emblems and symbols of freemasonry. Each board relates to one of the ceremonies or 'degrees', particularly its moral lessons. Think of how an architect uses initial drawings to instruct builders about the construction – so it's the same in freemasonry. The idea is that freemasonry is helping you build your own character. At lodge meetings, members will give 'tracing board lectures' on these boards, explaining moral teachings to one another. These tracing boards contain symbols and images important for freemasons and you will find them in many places in the Museum. They are often also crafted with superb skill.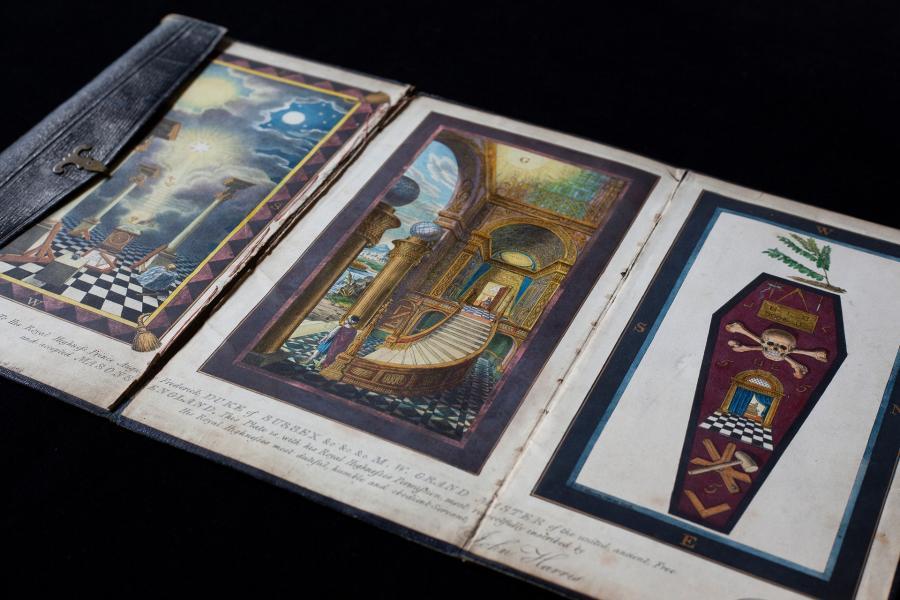 Suitcase stories
Freemasons keep their items together in suitcases. We are extremely lucky to be a Museum where our subject matter likes to keep itself well-organised and stored protectively! We have some examples of the suitcases in the Museum. When they are donated to us, we are usually presented with a whole picture of a person's life in freemasonry: which positions they held, who they were in contact with, what orders they belonged to and all sorts of things. It's a lovely moment when I get to tell the stories of individual freemason to my tour group, history isn't all kings and queens!
A beautiful gift
I adore these windows; they were gifts to the building when it was constructed from 1927 to 1933. Freemasons' Hall was built in honour of the fallen freemasons of the Great War. The funds for the building were raised by donations from members and lodges, but it wasn't just about the monetary contribution, some Grand Lodges and Provinces donated whole works to the building. These windows are such a contribution, provided by the Provincial Grand Lodge of Monmouthshire. If you spend some time looking at them, you'll start to see different scenes like the rough and smooth seas, or man and woman together.
What kind of moral lessons can you make from these depictions? Equality, respect, kinship?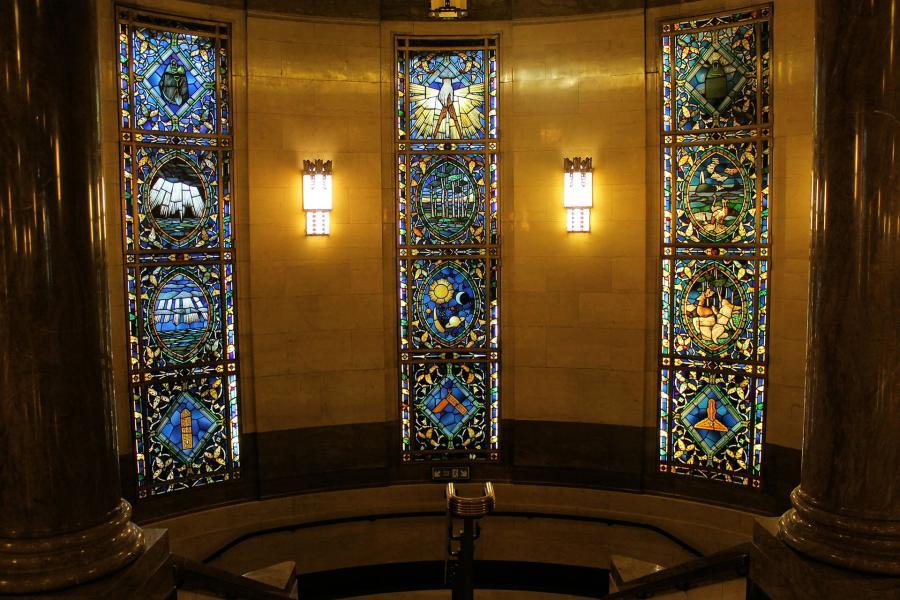 Perfectly weighted
I'd like here to pose the question: what's not to love about two twelve-foot-tall titanic slabs of bronze, especially two so beautifully designed? These doors, which mark the entrance to the Grand Temple at Freemasons' Hall, are astounding. Each door weighs one and a quarter tonnes and is perfectly weighted on five hinges – so perfectly that it takes just one finger to push them open. The scene depicted on the doors is the building of King Solomon's temple, a story that teaches integrity and respect to freemasons. 
10,000 pieces
Passing through the doors, we enter the Grand Temple. There are many incredible things about this room, but in my opinion none is more incredible than the coving. Above your heads, you'll find a twelve-foot-deep coving. It shows many symbols and characters which have important moral teachings for freemasons. The depictions are vibrant: a moon encased by a serpent eating its own tail (rebirth and renewal), King Solomon in his robes (integrity), Helios the sun god traveling in his chariot (seen above, symbolising education and enlightenment). It's a sight to behold!
But still more impressive is that the coving was installed by two Italian craftsmen during the late 1920s, and it's comprised of over 10,000 individual mosaic pieces, each only as big as your thumbnail.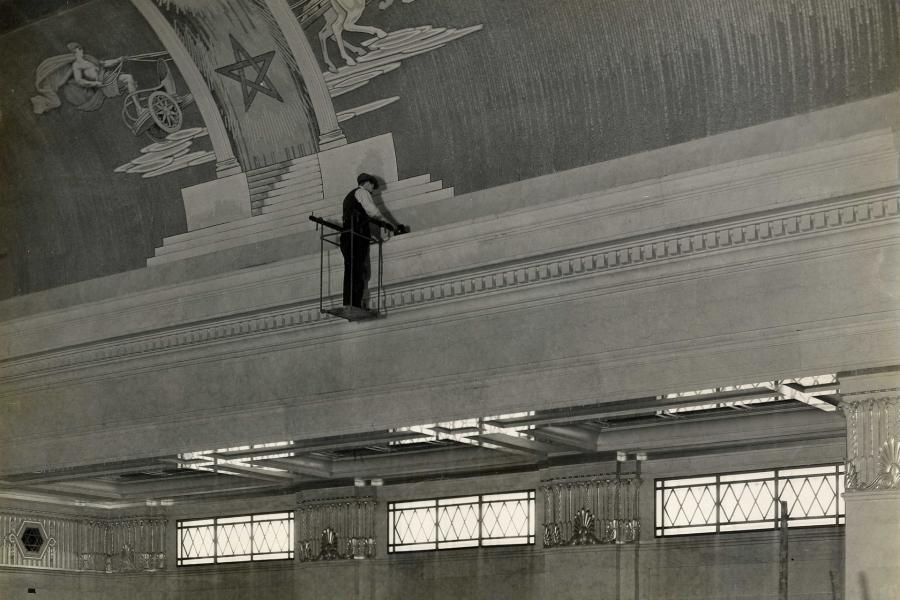 Starry skied
As mentioned at the start, freemasons take inspiration from stonemasons, like using the term 'lodge' to refer to a group of freemasons. Stonemasons would start projects in small groups, travelling far and wide to be there, and if you're the person who builds the buildings – when you arrive, you'll be sleeping under the stars before constructing wooden lodges to shelter in while they built the main project. The grand temple ceiling is a homage to that time, showing a beautiful starry sky. You can see some of the coving in its full glory at the edges as well!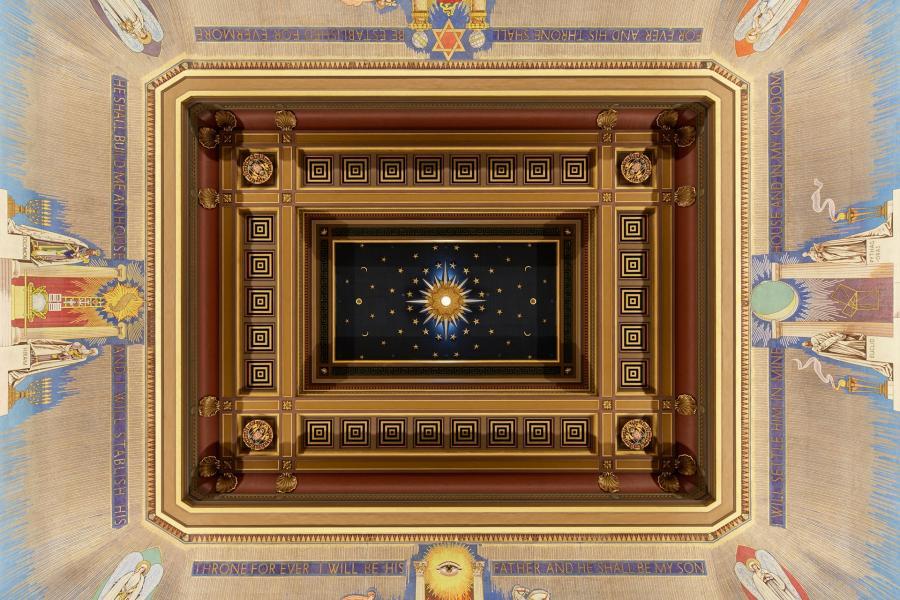 Discover more
You can find out more about freemasonry and what it means to its members by watching this film produced by the United Grand Lodge of England.
I hope you have enjoyed seeing just some of the highlights on a tour at Museum of Freemasonry. Why not pop in when we re-open to take a free tour and see them for yourself.