American president George Washington is probably the most well-known freemason from history. He was initiated into freemasonry in Fredericksburg, Virginia in November 1752.
Born into a middle class, plantation-owning family in 1732, by the time he turned 20 Washington was beginning to climb the civic, landowning and military ranks. Records suggest that the Fredericksburg lodge had first met only a few weeks before his initiation. It was not affiliated to any grand lodge at the time but in 1758 it was granted a formal charter by the Grand Lodge of Scotland.
It was a slow start for the young Washington, as he attended the lodge only twice after his initiation. There is no record of any masonic activity on his part until 1777 when he was asked to be the first Grand Master of the Grand Lodge of Virginia. He appears to have demonstrated his renowned humility by declining the offer, but it marked a renewal in his freemasonry that coincided with the Revolutionary War. He joined a lodge at Alexandria, Virginia in 1782 and took part in masonic processions.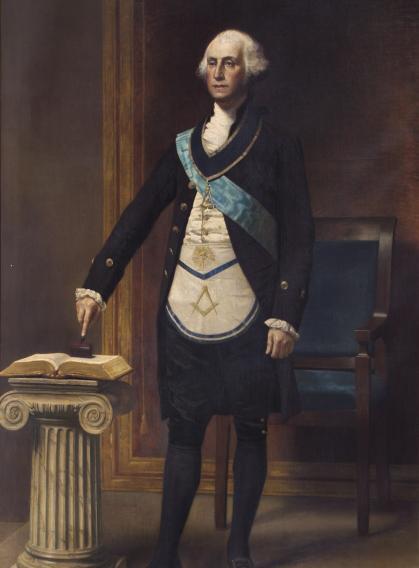 By 1789, he was an established hero of the new republic and was inaugurated as the first President of the United States of America in New York. In a show of public acknowledgement of his freemasonry he took his oath of office on a Bible that belonged to St. John's Lodge, New York. Some years later in 1793 he made what would be the loudest declaration of his position by laying the cornerstone of the United States Capitol in Washington in masonic regalia. When he died in 1799, his funeral included a masonic procession.
The United Grand Lodge of England was gifted a monumental portrait of George Washington at the turn of the century. Measuring around 2.5 metres high it was commissioned by pharmaceutical entrepreneur and freemason Sir Henry Wellcome and painted by Robert Gordon Hardie in 1900. You can see it today in The Shop at Freemasons' Hall.