Before photography painting was one of the main ways to capture people's appearance and character, or to remember how places and important events looked. Museum of Freemasonry has a small but remarkable collection of portraits from the 1720s on. Some of these paintings are on show but we only have so many walls, so rather than hide them away many are in meeting rooms around Freemasons' Hall, often linked in some way to the men in them. This allows members to enjoy them rather than leaving them in store, but it does make them harder to show you. Fortunately there was an exciting way round the problem, so our Curator Mark Dennis explains why you should get to know Art UK.
What is it?
Art UK is a charity that over several years has been photographing every public art collection in the UK so we can all enjoy these images online. Freemasonry is an important part of British history so naturally the collections at Museum of Freemasonry were part of the project. Art UK photographed all the oil paintings here and gave us high resolution images of them. You can find all these wonderful painting on our page at Art UK.  A second project last year added sculptures to the site and we were proud to see the massive statue of the Duke of Sussex featured. That was sculpted by Edward Hodges Baily, the same person who made the statue of Nelson on Nelson's Column in London's Trafalgar Square.
It's not only portraits though. Many of the 'tracing boards' which are used to explain the ceremonies of freemasonry were painted in the past. These are rich and often unique symbolic charts. Look at these and you'll be seeing images that have only been available to specialist researchers in the past. Try working out what it all means!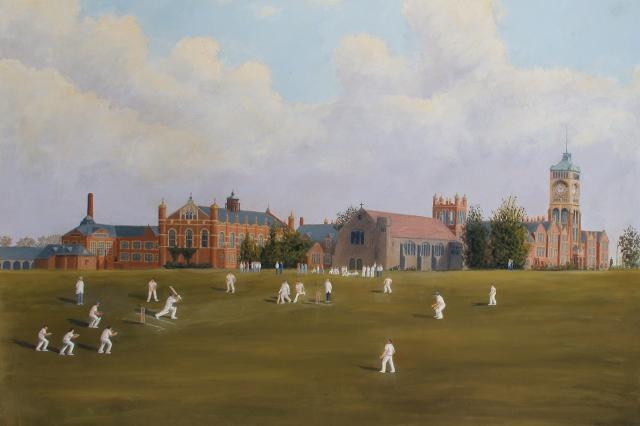 Personalities and playing fields
Not all the paintings are full of imagery. Some, like the portrait of the 2nd Duke of Richmond, are just lovely portraits of important men who were freemasons and there are idyllic images like the cricket match in the grounds of the Royal Masonic School for Boys. The portraits of their headmasters are with us too and slightly scary. We wouldn't have misbehaved when they were in the room.  A personal favourite of mine in the collection is the merchant ship William and Anne coming into port in Malta and flying a square and compasses flag on its mast.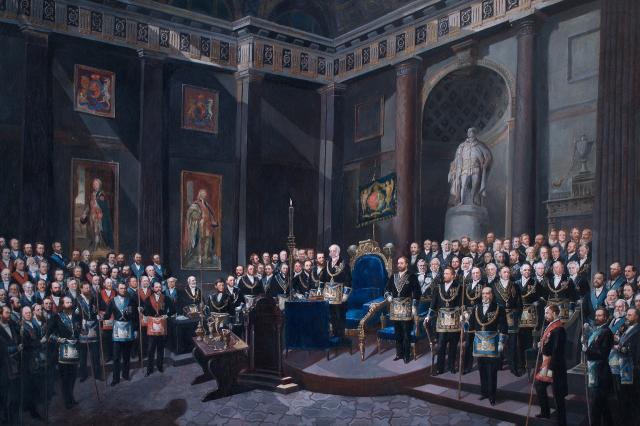 Window to the past
One of the most important paintings shows the Prince of Wales being installed a Past Grand Master in the old Grand Temple. It's a wonderful snapshot of all the different aprons and collars. It's the only colour image of that temple and contains portraits of most of the senior freemasons of the time. It's almost as good as being at the event and without it we'd have no idea what it was like. Many of the items in the image are in our collections and you can see them for real, including the vast throne made for King George IV.
Art UK is an enjoyable way to browse another aspect of our collections from your own home, and it can put a face to some of the names you may have already discovered using some of our other online resources.